Collins Recital Hall Constructed with MTE Wood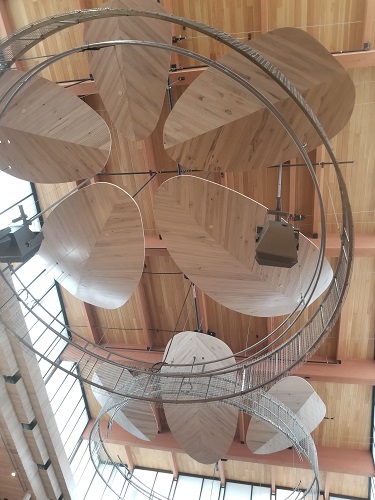 The Collins Recital Hall is a brand-new recital hall on UW Madison's campus. The grand opening was on Friday, October 25, 2019.
The Collins Recital Hall seats 189 on the main floor (plus 3 wheelchair access) and 104 in the balcony, with an additional three for wheelchair access, to total 299. Warm wooden elements include wooden planking sourced from tribal lands of the Menominee Indians in Wisconsin; wooden "petals" on the lighting "tiaras" suspended from the ceiling; and framed glulam beams (laminated timber of exceptional strength) that support the cement-filled ceiling.
The hall's colorful and dynamic wallpaper was designed by Tandem Press founder and printmaker William Weege, professor emeritus of UW–Madison's Department of Art. The hall is named for Paul J. Collins, a 1958 graduate of the School of Business. Collins honored his mother, Adele Stoppenbach Collins, a 1929 School of Music alumna, with multiple graduate music scholarships and two professor endowments, then provided a significant donation to fund the new recital hall.