Forestry
MTE Forestry
The Menominee Forest has been sustainably managed by the Menominee Tribe for more than 150 years, and is a premier example of forest management in the world. The sustainable management of the forest allows us to experience a traditional quality of life from an intact, diverse, productive, and healthy forest ecosystem on the reservation.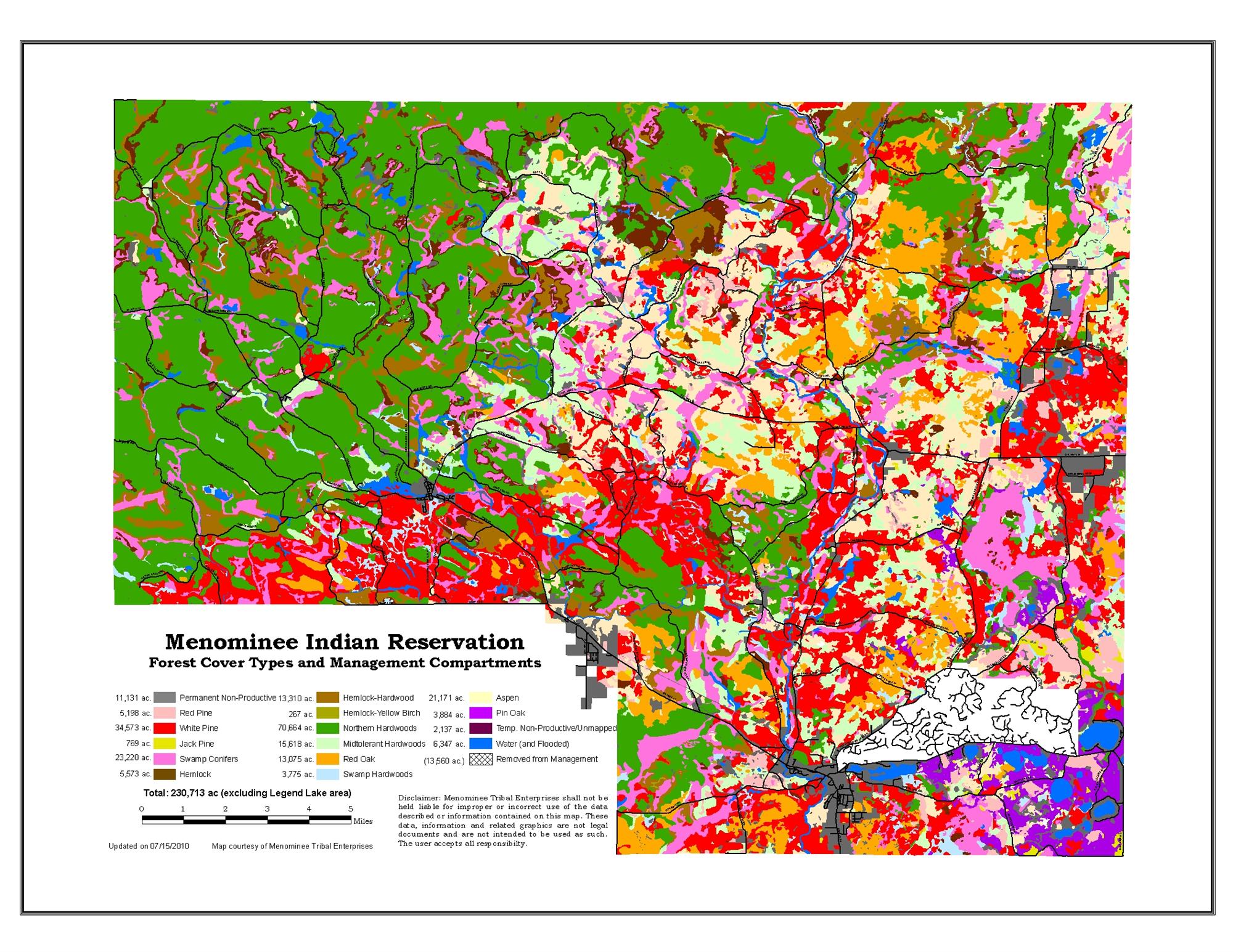 MTE incorporates a comprehensive forestry plan through a variety of initiatives aimed at maintaining the health and well-being of our forest. Below is a capsule look at each of our Sustainable Forestry Programs:
Menominee Tribal Enterprises Forestry Department Programs
| | |
| --- | --- |
| Silviculture | Uses the harvest schedule to develop harvest prescriptions. Silviculture also works with other resource professionals, both at Menominee as well as the state and federal levels to ensure MTE is utilizing the best available practices for forest management. |
| Harvest Prep | Follows the guidelines of the management prescriptions to delineate the harvest units, mark the timber, and estimate the volume of timber to be removed from the unit. |
| Forest Development | Works with the other programs to develop and implement prescriptions of a pre-commercial nature (e.g. pre-commercial thinning, planting, site prep, etc). |
| Timber Harvest Administration | Cooperates with logging contractors to ensure the units are harvested according to the prescription, and evaluates the performance of the logging contractors to protect the soil, water, and forest resources. |
| Forest Health Program | A protection program to ensure the health of the forest and the livelihood of its people. The program's objective is to protect the forest from damaging insects, pathogens, and weeds (particularly non-native invasive species) through the use of integrated pest management principles. |
| Fire Management | Conducts fire suppression activities across the forest. Develops and implements burn and fuel reduction prescriptions and activities that complement the goals of Forest Development and Silviculture. |
| Forest Inventory | Performs long and near term planning and harvest scheduling based on targets, goals, and current knowledge of the forest composition. |
Planning, timber harvests, non-commercial treatments, and prescribed burns are developed and implemented by the coordinated efforts of these programs. Other Agencies (e.g. MITW Environmental Services, Historic Preservation, etc.) provide input and signature authority to prescription development and implementation.