Menominee Tribe Breaks Ground
July 15, 2020

Menominee Tribe Breaks Ground for New Family and Community Engagement Center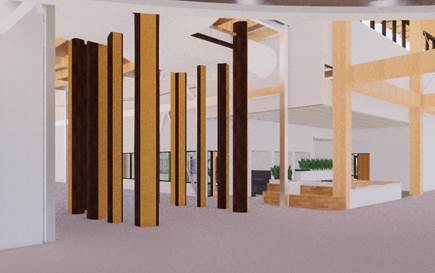 (Keshena, WI) –The Menominee Indian Tribe takes another substantial and visible step to demonstrate its commitment to the Tribe's Mission, Vision, and Values with the start of construction of a new 70,000 square foot Family and Community Engagement Center. The groundbreaking ceremony was held on Wednesday, July 15, 2020 for the new home of the Tribe's Youth Services Department and the headquarters of community engagement activities.

Since the 1980s, the Tribe's now retired Recreation Director, Duane "Buckle" Waukau dreamed of a facility with indoor and outdoor spaces large enough to provide space for multiple simultaneous events to engage youth. Indoor space for winter youth activities was a particular challenge for Waukau and now for Michael Waupoose, the Director of Youth Services. In 2015, the Menominee Tribal Legislature adopted a Legislative Goal directing the Tribal Administrator to solve that challenge. Since then, community members from all reservation communities, tribal youth, community organizations, and tribal programs have worked diligently to develop and finalize plans.

Menominee Tribal Chairwoman Joan Delabreau stated, "The start of construction on this 70,000 square foot $16 million dollar facility underscores the long standing commitment to build a culture of health. This investment of tribal resources in families and youth will give the programs of tribal government and the many community organizations on the reservation a home base to gather, celebrate, and engage."

Scheduled for completion in September of 2021, the building includes two NCAA regulation size basketball courts that can be broken down into four smaller courts for basketball, volleyball, soccer, batting cages, and more. Bleacher seating for 800 combined with additional floor seating provides the Menominee Reservation with its largest indoor facility for sporting events, pow wows, and other celebrations. An indoor walking track, state of the art fitness center, meeting space, fitness rooms, a new home for the Menominee Indian Boxing Club, Youth recreation rooms, and offices for the Youth Services department make the building a central activity hub for community members of all ages.



Construction of the facility will occur on between Library Road and Go Around Road near the current tribal recreation center and the existing baseball diamond in Keshena, Wisconsin.

#MITW#
Check out the Community Center Groundbreaking video.