MTE Forestry News
About Us >> News
What's New at Menominee Tribal Enterprises?
When MTE makes the news, either locally or nationally, you'll find the articles right here. For example, you can find an article in the Green Bay Press Gazette about how the basketball floors used for the NCAA Final Four were made from MTE harvested maple wood, as well as a piece about the aftermath of a 2007 tornado that tore through over 3000 acres of the Menominee forest. Find out more about MTE and our forestry practices in these articles.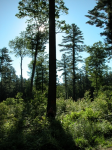 MILWAUKEE April 15, 2016 The College of Menominee Nation and the U.S. Forest Service will hold an official memorandum of understanding signing ceremony April 19 to expand collaboration between the two parties. This signing event celebrates the decades-long collaborative working partnership between the College of the Menominee Nation and the Forest...