ISPM-15 Requirements
The "International Standards for Phytosanitary Measures No. 15" (ISPM-15) was put in place by the International Plant Protection Convention (IPPC) to prevent the international shipment of contaminated wood materials. Specifically, it's intended to stop the spread of invasive insects, parasites, and diseases that can have devastating impacts on trees, other plant species, and the ecosystems that depend on them.
It's quite similar to the firewood transportation laws that you might be more familiar with, which say you aren't allowed to haul untreated firewood too far from where it was harvested. In many ways, ISPM-15 is the commercial, industrial, and international version of those laws.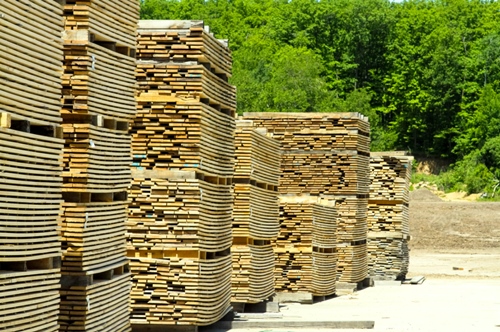 ISPM-15 Compliance at MTE Wood
The specific ISPM-15 requirements are as such:
All solid wood and wood packaging materials (WPM) over 6 mm in thickness, such as wooden pallets, dunnage, and crating, must be treated. During the heat treatment process, WPM must be heated until its internal temperature reaches 56 degrees Celsius for at least 30 minutes.
At MTE, we follow and meet the standards for heat-treating our WPM lumber products with a kiln. Heat treatment is the most environmentally friendly and effective method of killing off any harmful insects, parasites, diseases, and other pests that might be in the lumber. It is our responsibility as contributors to international trade to ensure ecosystems across the world are healthy and not at risk because of our practices.