Sustainable Framing Lumber for Sale
With our vast range of lumber options and our responsible forestry practices yielding the highest quality wood available from the USA, MTE has sustainable framing lumber for your most vital exterior and interior framing projects. If you're searching for framing lumber with superior strength, durability, grain and workability, you'll only find it from MTE.
We Supply Superior Lumber for All Your Framing Needs
Whether you need lumber for balloon framing, platform framing or semi-balloon framing, MTE has the rough-sawn, kiln-dried lumber you need to make your commercial or residential interior and exterior framing projects a success.
Hardwood Lumber
Hardwood lumber is heavier, more scratch-resistant and more durable than softwood lumber, making it ideal for structures needing to endure heavy use.
We harvest White Ash and Red Oak from the Menominee Forest for your hardwood framing lumber needs. White Ash has exceptional shock-resistance, strength and flexibility, while Red Oak is known for its rot-resistance, straight grain pattern and durability.
Softwood Lumber
Softwood lumber, used for residential framing projects, is lighter, less expensive and easier to work with than hardwood lumber.
We harvest Eastern Hemlock, American Basswood and Red Pine. Eastern Hemlock is appreciated for its strength, while American Basswood is preferred for its fine, even texture and straight grains. Red Pine also features a straight grain and is appreciated for its flexibility.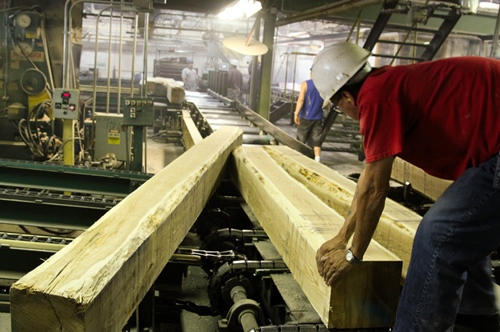 Get a Free Online Quote for High-Quality Kiln-Dried Framing Lumber
At MTE Wood, our kiln drying process ensures your rough-sawn lumber for wood framing will be resistant to warping and cracking. Our newest kilns have a drying capacity of 370,000 FBM to 450,000 FBM, and we produce an average of 2.5 million board feet of kiln-dried lumber per year.
Whatever your framing project, MTE has the wood you need. Get a quote on our sustainable lumber for framing today.
MTE's Award-Winning Sustainable Practices Give Your Framing Lumber an Edge
MTE is the proud recipient of awards and recognition for our forest conservation work. Our awards include the Business Friend of the Environment award, the Forest Stewardship Award, and the President's Award for Sustainable Development, to name a few. We systematically monitor the growth and health of our forest, we are fully committed to maintaining our forest with sustained-yield forest management while adhering to the strict policies and standards of the Forest Stewardship Council® (FSC®), and we are proud to be recognized as a top national and international sustainable wood supplier. When you use MTE wood, you're making a sustainable choice for your residential or commercial framing project.
MTE Wood Sells Sustainable Kiln-Dried Framing Lumber to Builders and Homeowners
MTE Wood is the preferred supplier of framing lumber across the state of Wisconsin in Manitowoc, Eau Claire, Oshkosh, Waupaca, Sheboygan, Wausau, Madison, Appleton, Green Bay, Milwaukee and beyond. Choose MTE to get sustainable and reliable quality for your most important interior and exterior wood framing projects.