Finish Grade Lumber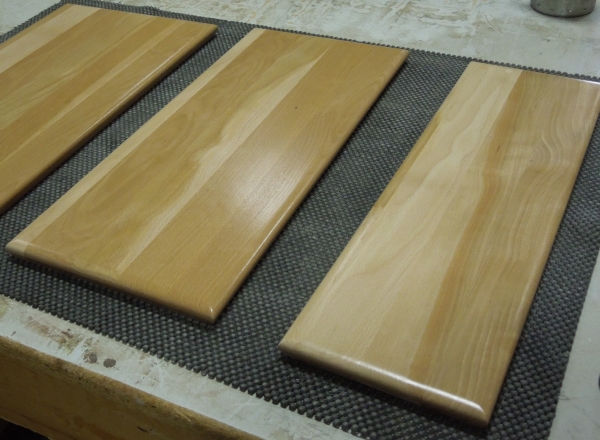 MTE supplies high-quality, sustainably sourced hardwood from one of the largest managed forestry tracks in the nation. We have a variety of finish-grade wood species available for purchase. All orders can be placed by board foot from our stock. Contact us today for more information on species availability for our finish-grade lumber!


Best Hardwoods for Finish Work
Menominee Tribal Enterprises has a variety of species available from our Wisconsin-based forest varying from 410 lbf to 1450 lbf on the Janka Hardness scale.

Birdseye Maple for Finished Surfaces
Birdseye maple is one of the best hardwoods for tabletops and other flat finished surfaces. Birdseye maple typically falls around 1450 lbf on the Janka Hardness scale which is relatively high, thus making it ideal to not get scratches or scars. The unique characteristic called "Birdseye" is formed in maple wood due to unfavorable growing conditions in maple trees and is quite rare. Due to its limited supply, it is highly sought after and can cost as much as $30 per board foot.
Menominee Tribal Enterprises sells hard and soft maple sourced from their very own managed track of forest. For more information or to place your finish-grade lumber order contact us today!
Appearance Lumber for Sale from MTE Wood
Appearance lumber is wood typically used for areas of a building that draw more attention. These types of woods are typically more durable in nature, higher on the Janka Hardness Scale, and have more prominent grain appearance. Due to these qualities, the wood brings out its own natural art when stained and complements just about any room.

MTE supplies finish grade lumber for:
Furniture Makers
Stair Makers
Millwork Companies
Trim Manufacturers
Table Makers

For more information on how we can help you, contact us today!