Sustainable Lumber Supplier for Businesses in Appleton
Appleton Commercial Lumber Supplier
MTE Wood provides high-quality lumber products to Appleton businesses from responsibly managed forests. With over 150 years of experience, we've formed strong partnerships by consistently offering diverse wood, custom milling and excellent service. Choosing MTE Wood as your lumber supplier assures responsible sourcing. Contact us today to discover the advantages of sustainable lumber for your Appleton business!

Sustainable Lumber for Appleton Businesses
Our expansive product range caters to the diverse requirements of businesses surrounding Appleton. With a heritage of quality and a dedication to sustainable practices, MTE is your trusted lumber supplier for:
Sustainable Lumber Benefits
We're dedicated to supplying eco-friendly, responsibly sourced building materials to local contractors and businesses in Appleton. Our stock is exclusively FSC-certified wood, meeting strict forestry standards for sustainability. The lumber we offer is sourced from well-managed forests and other ethical suppliers.

Choosing sustainable lumber has environmental benefits, reducing habitat destruction and supporting responsible forest management. Our FSC lumber is rigorously audited for legality and sourcing. We trace the origins of our wood products, ensuring you can confidently use sustainable materials in your Appleton projects. Not only is green lumber better for the environment, but studies also confirm its durability in construction.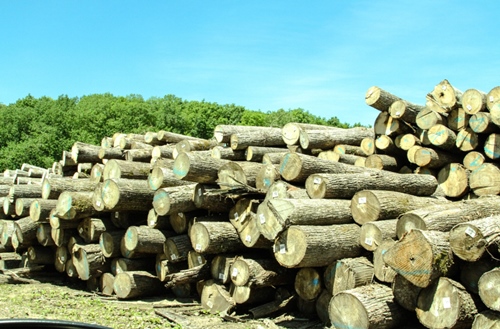 Sustainable Lumber for Your Business? Key Facts to Know
As Appleton's top sustainable lumber supplier, we stand out for the durability of our wood products.
Selective cutting maintains forest health and optimizes lumber strength by using mature, resilient trees.
Our responsible forest management leads to FSC-certified lumber that matches or exceeds the strength and durability of conventional wood.
FSC lumber allows for large-diameter beams, offering impressive load-bearing capacities.
We eliminate substandard wood through proper grading, which reduces issues like checking, warping or excessive knots.
With effective moisture control, our sustainable lumber excels in stability and longevity.
You don't have to compromise structural integrity when choosing eco-friendly, responsibly harvested FSC lumber.
Our high-quality sustainable lumber meets the demands of both commercial and residential building projects in Appleton.
Menominee Forest Wood Species for Businesses
MTE is a sustainable lumber supplier for businesses in Neenah, Menasha, Kaukauna, Kimberly, Grand Chute and the surrounding communities. Contact us today!